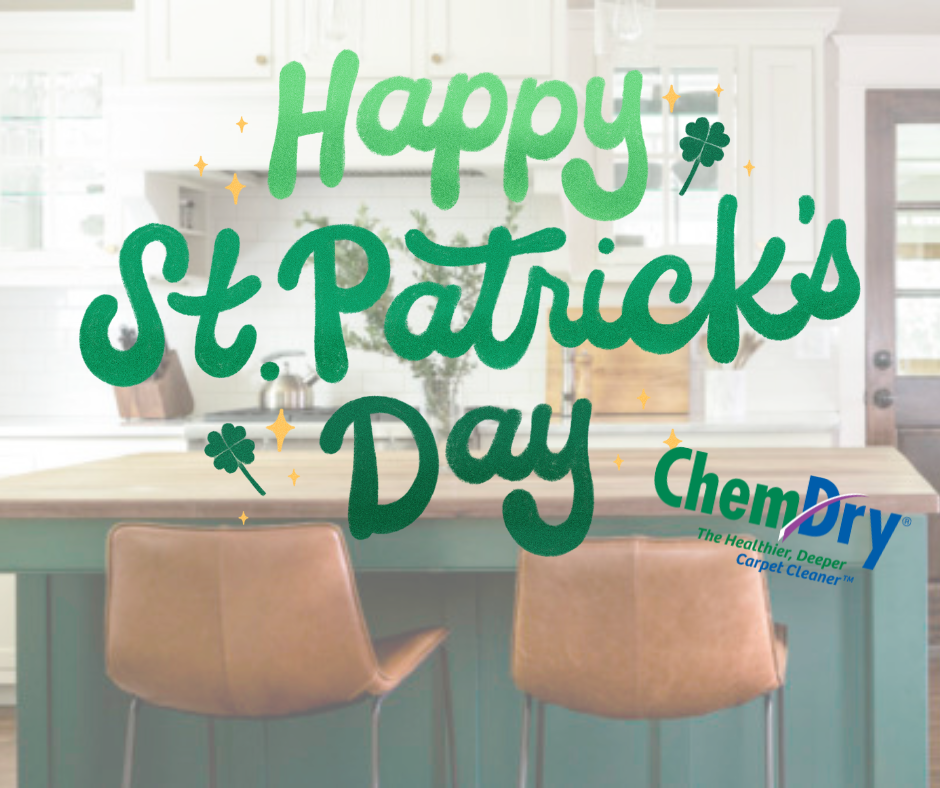 Luck of the Chem-Dry
TUESDAY, MARCH 14, 2023
Saint Patrick's Day is a beloved holiday celebrated on March 17th around the world, and Chem-Dry wants to help you make the most of it! From the parades to the parties, there's something for everyone to enjoy. But as you're celebrating the luck of the Irish, it's important to remember to keep your home clean and safe. Here are some tips from Chem-Dry to help you have a happy and healthy Saint Patrick's Day:
Clean your carpets and upholstery
With all the festivities, your carpets and upholstery are bound to take a beating. From spilled drinks to muddy shoes, it's important to keep them clean to avoid stains and odors. Chem-Dry's patented cleaning process uses carbonation to lift dirt and grime from deep within your carpets and upholstery, leaving them fresh and clean.
Don't forget about your rugs
If you have rugs in your home, make sure to give them a thorough cleaning as well. Rugs can be a breeding ground for bacteria and germs, especially after a busy party. Chem-Dry's area rug cleaning services use a gentle yet effective process to remove dirt and stains from your rugs, leaving them looking like new.
Protect your home from allergens
Spring allergies can put a damper on any Saint Patrick's Day celebration. Chem-Dry's allergen removal services can help reduce the number of allergens in your home, including pollen, pet dander, and dust mites. This can help you breathe easier and enjoy your festivities to the fullest.
Avoid DIY carpet cleaning
While it may be tempting to rent a carpet cleaning machine from the local hardware store, these machines can actually do more harm than good. They often leave behind soap residue, which can attract dirt and grime and make your carpets look even dirtier. Chem-Dry's professional carpet cleaning services use a low-moisture process that doesn't leave behind any residue, ensuring that your carpets stay cleaner for longer.
By following these tips, you can ensure that your home stays clean and healthy during the Saint Patrick's Day festivities. Whether you're hosting a party or just enjoying some quiet time at home, Chem-Dry can help you keep your carpets, upholstery, and rugs looking and feeling their best. Happy Saint Patrick's Day!
BACK TO BLOGS